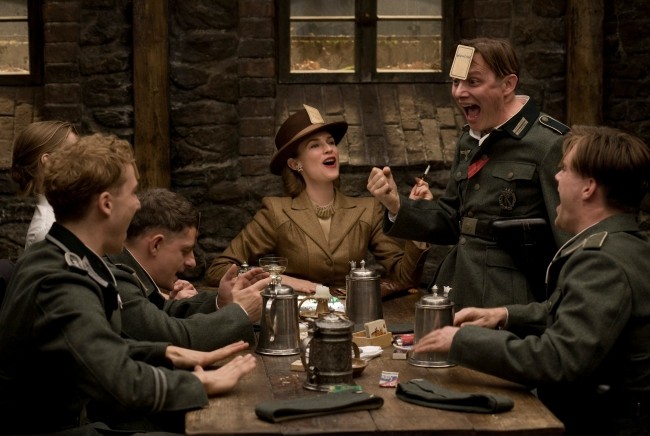 On Sunday I watched Inglourious Basterds with Toady and Friends. I have to say that I generally love Tarantino and I was quite entertained by this movie. They say that if you leave the theater still talking about the movie then that marks it as a good film (whether you like it or not, you're still there talking about it so there was something about it, right? Perhaps flawed logic. Discuss.). We, indeed were still talking about the movie after it ended and WOW wouldn't that have been a bangin' end to World War II? I think so.

But, seriously? What's with all the gratuitous violence? In like, ALL of Tarantino's movies. I can't help but wonder if no one ever hugged this guy as a child. Was he the kind of person who did horrible things to small woodland creatures and his sister's Barbies? Or is he just a bit of a sicko? Because, really: I KNOW this kind of stuff exists in real life but I don't really want to SEE it.

So I say, Mr. Tarantino, I take your gratuitous violence and I up you a cuteoverload.com and a litter of Teacup Poodles. Topped with a f*#cking rainbow and a unicorn. Maybe next time you could take it down a notch??? Yeah, yeah, I'm sure you'll get right on that.